Origami Doll : DATES FOR YOUR DIARY!
29th November 2019 @ 7pm :  Gerard Beirne (novelist & poet) will host a joint reading in "Poetry by the Weir", Osta Cafe, Sligo. Shirley's family and friends will read from Origami Doll and her literary editor Jane Clarke will read from her newly published collection, When The Tree Falls.
Lifelines : Quaker Meeting House, Monkstown
Lifelines : 12 October 2019. An evening of poetry, music and conversation, hosted by Liz McManus, exploring the power of creativity to provide solace and insight into the experience of serious illness and loss, inspired by Shirley's posthumous collection Origami Doll. Poets Geraldine Mitchell, Jane Clarke, Katie Donovan read their own work and that of Shirley McClure (as did her husband Philip Beck).  Music by Eamon Sweeney, Cormac Breatnach. Followed by panel discussion with Clinical Psychologist Dr.Susan Delaney on the interaction between poetry and serious illness & loss. All proceeds to Blackrock Hospice - over €3,000 was raised! The event was a sell-out, and the atmosphere during the event and comments afterwards showed that everyone really connected each in their own way with what was going on & took a lot of inspiration away with them.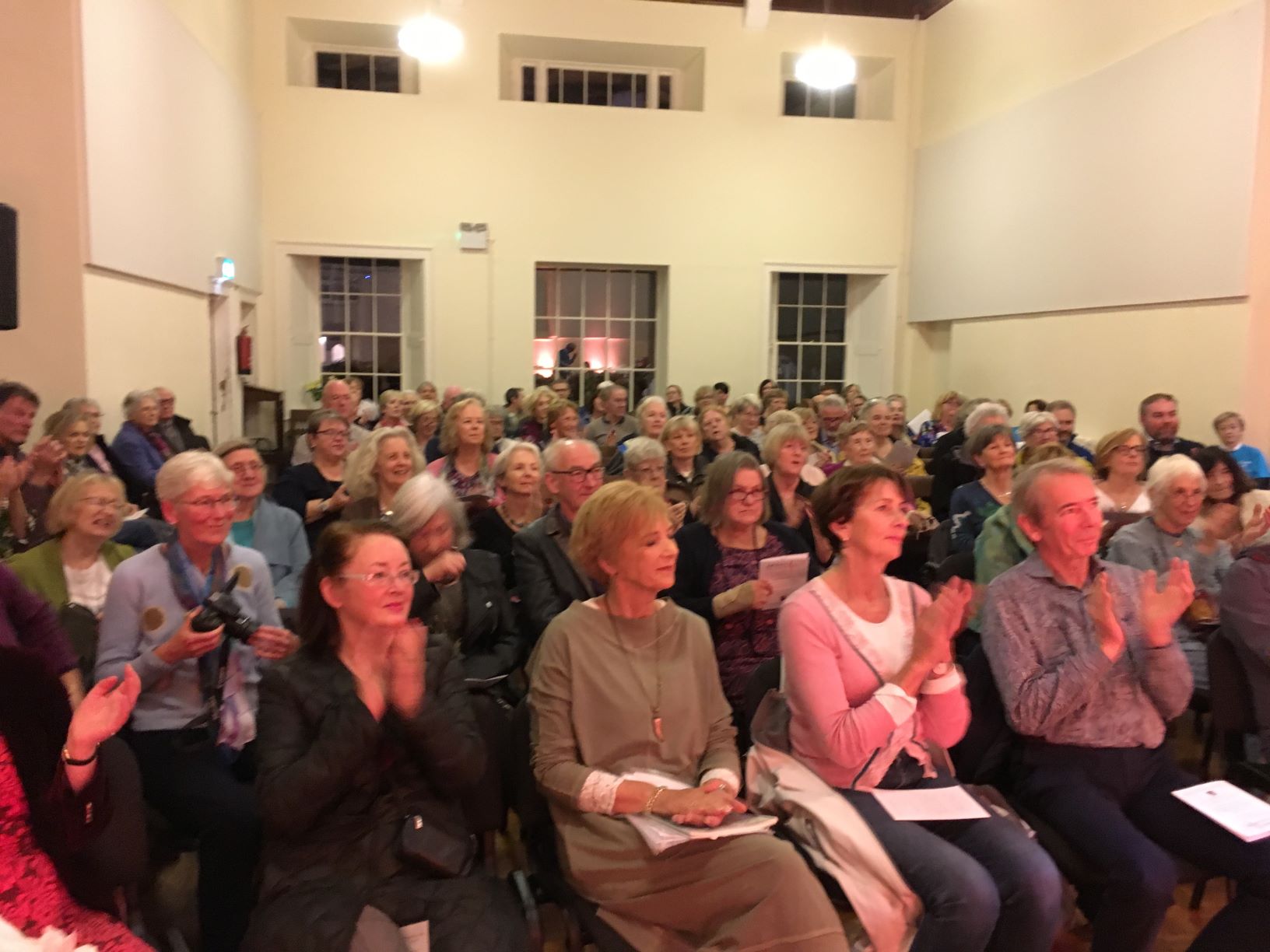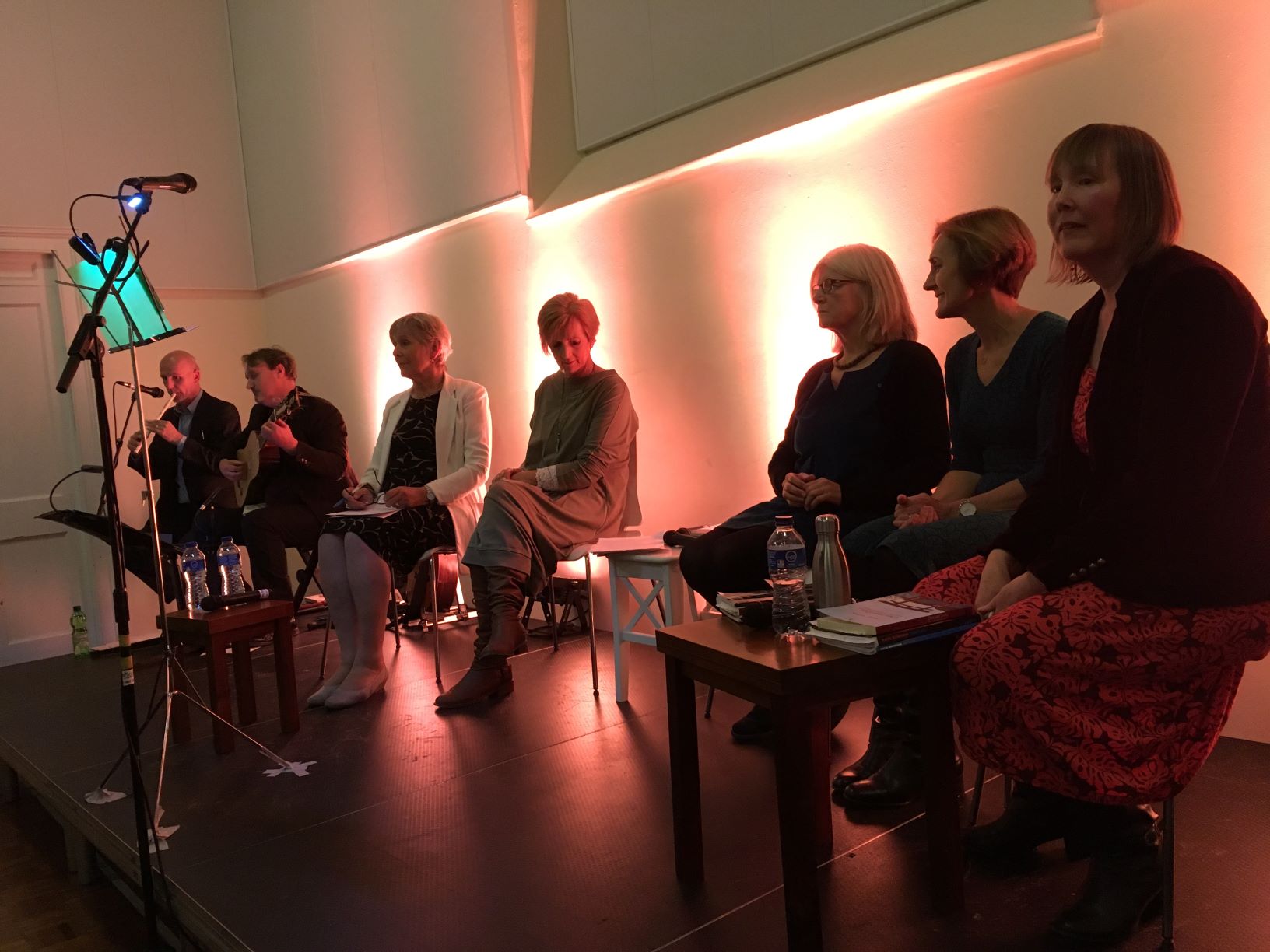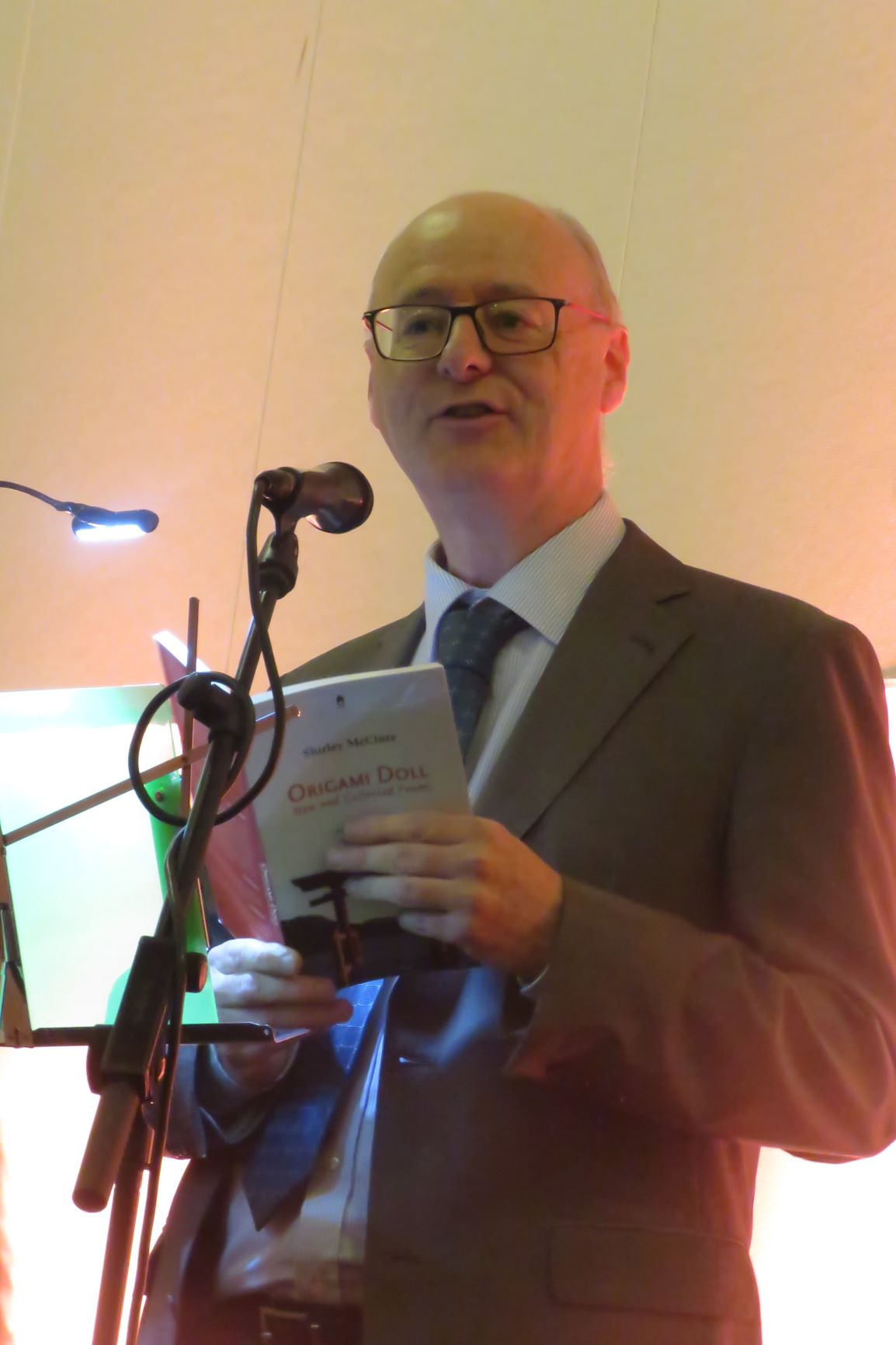 Origami Doll : Bray Arts
Monday 7th Oct : Philip Beck gave a reading from Origami Doll at Bray Arts, The Martello, Bray. A lovely evening with some great live music & excerpts from the Barber of Seville.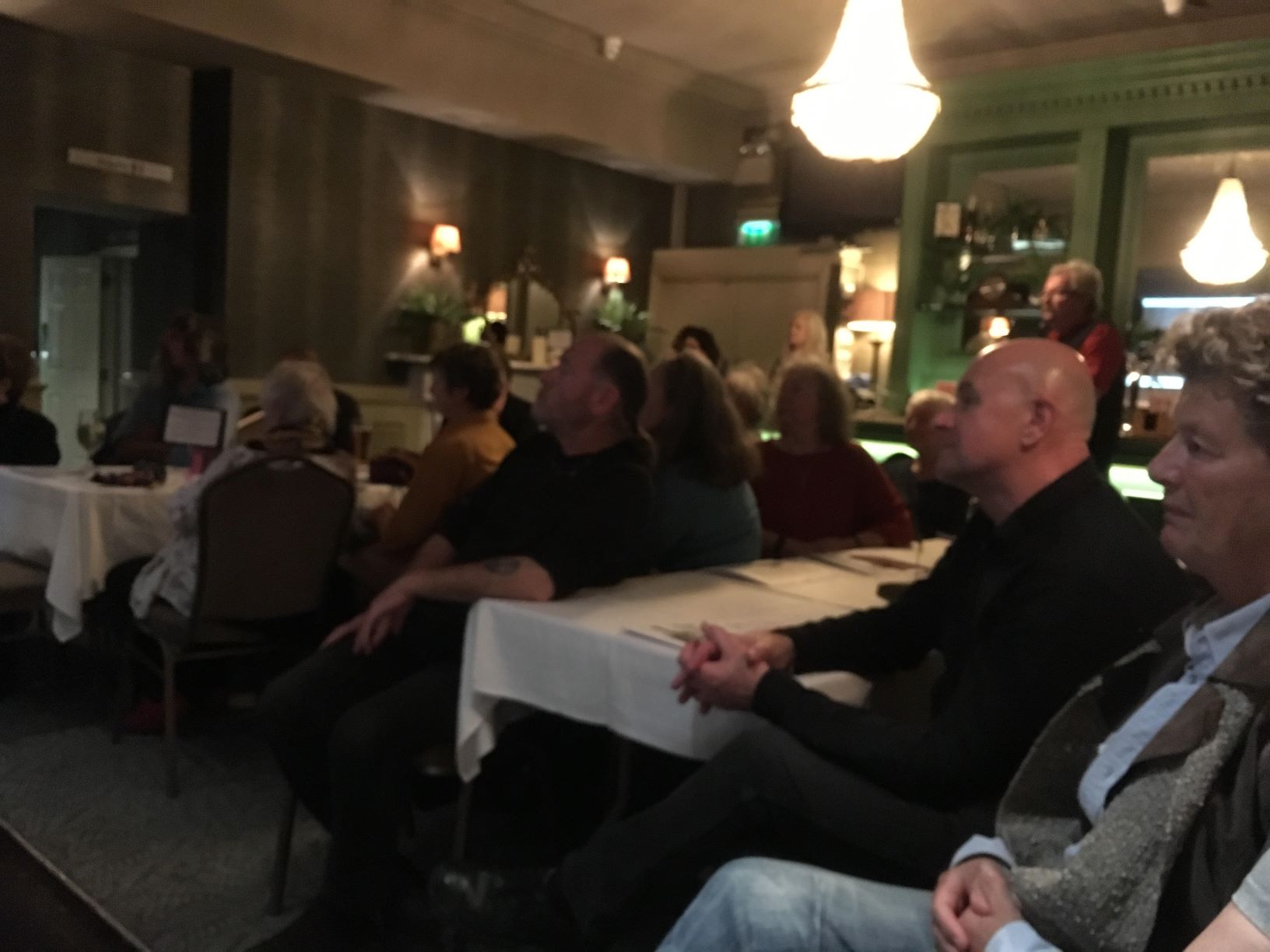 Origami Doll : Dromineer Literary Festival
Sunday 6th Oct 2019 : Dromineer Literary Festival - Jane Clarke & Geraldine Mitchell gave a reading from Origami Doll in Steeples Cafe, Nenagh. Geraldine and Jane, poets and old friends of Shirley's, spoke about the broad range of Shirley's work and read poems that showed her wit, wisdom and compassion. In the intimate atmosphere of the café on that bright Sunday morning the audience was moved to laughter and tears by the power and beauty of Shirley's work. Photos
here
Origami Doll : Bray Literary Festival / Culture Night
Friday 20th Sept 2019 (Culture Night) Bray Town Hall - the Culture Night launch of
Bray Literary Festival
this year included "Shirley McClure – A Celebration", with readings from the Bray poet's posthumous collection: Origami Doll (Arlen House, 2019) by Philip Beck & Katie Donovan.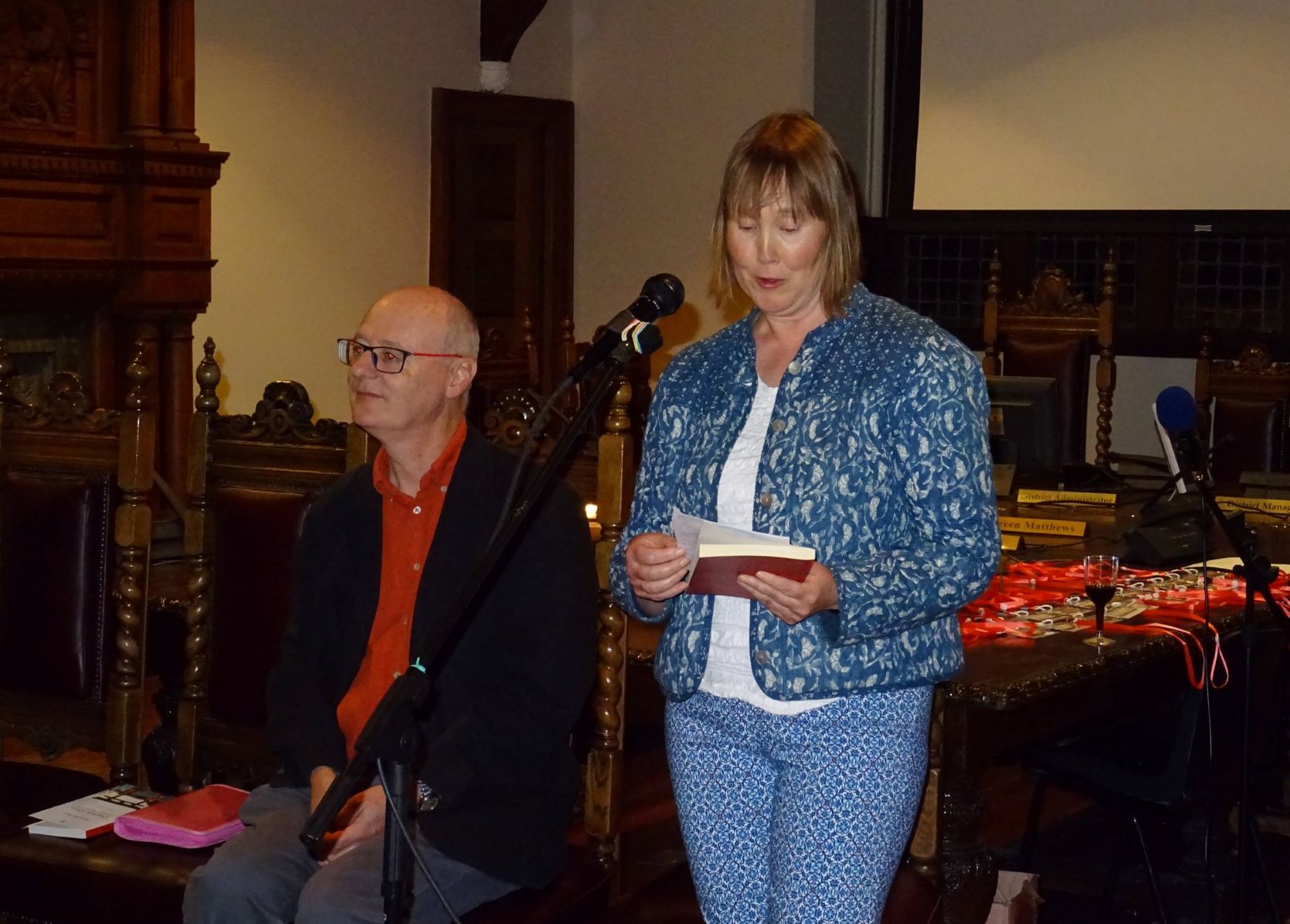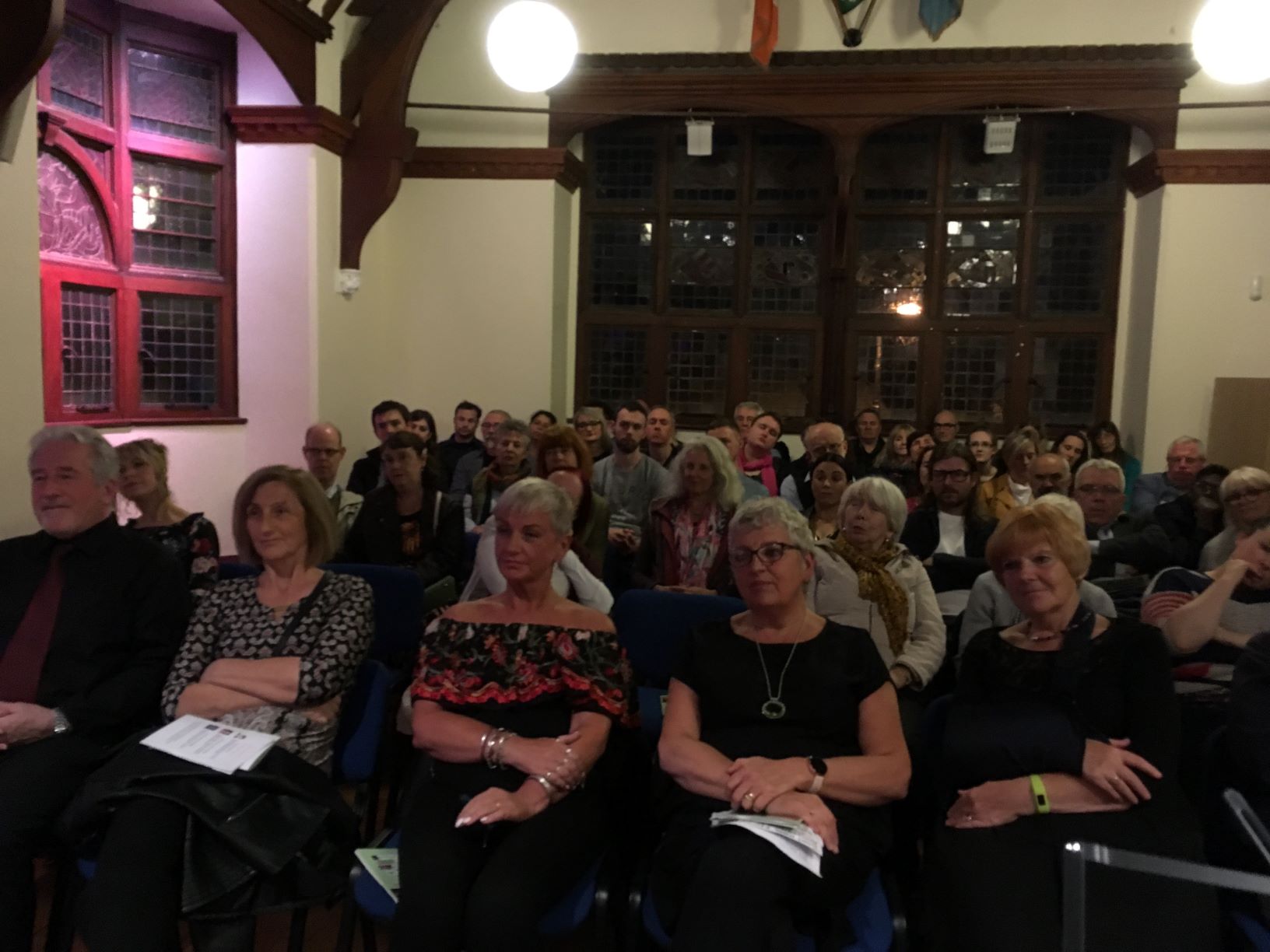 Origami Doll : Avoca Writers
Zandra Carrington hosted a lovely evening on Friday 6th Sept where her Avoca Writers group presented their work in The Meetings in deepest Co Wicklow. She very generously offered Shirley's husband Philip Beck the opportunity to read some of her poems to the gathering.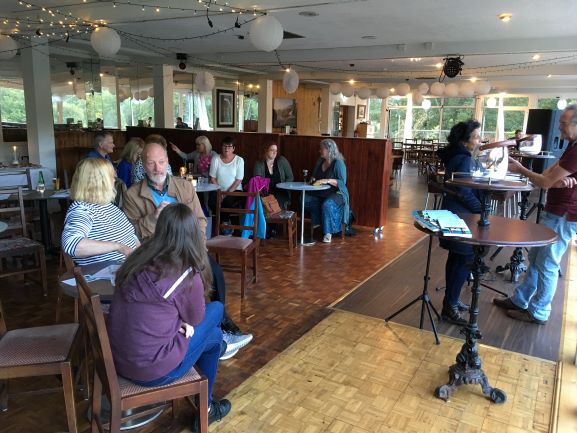 Origami Doll : Caffe Letterario, Gatta Nera, Bray
Carmen Cullen arranged one of her occasional "Around The Corner" get-togethers in the
Gatta Nera Caffe Litterario
in Bray on 27th June 2019. It was a very pleasant event where participants performed in round-robin fashion - two musicians, another poet, Shirley's poems read by her husband Philip Beck, and contributions from the gathering. Thanks Antonella and staff for hosting us!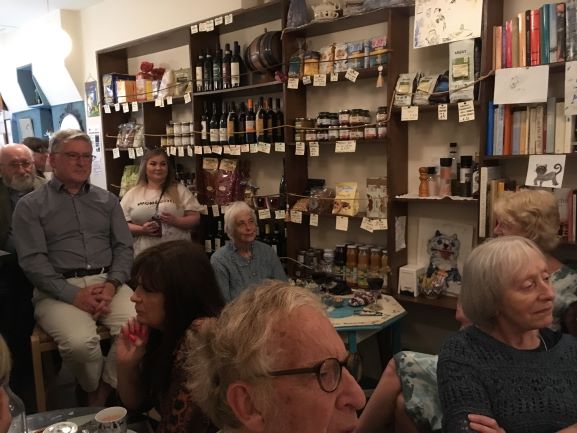 Origami Doll : The Shaking Bog, Glencree
Catherine Nunes' new festival
The Shaking Bog
hosted a most original event dedicated to Shirley's poetry on 23rd June 2019 in the Glencree Centre in Co.Wicklow. Jane Clarke and Katie Donovan simply sat and had a conversation about several of Shirley's poems they particularly liked, about her approach to writing poetry, and how her poetry related to other poets contemporary and classical. The format worked extremely well, and the large gathering enjoyed it immensely.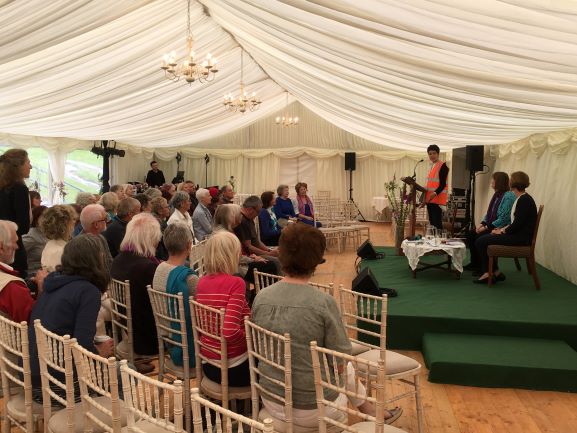 Origami Doll : Dingle Library
Shirley's friends Patricia Sharpe & Dorene Palmer arranged a reading hosted by the Dingle Library on 15th June 2019. Half a dozen of her friends read her poetry, interspersed with music by one of her Shiatsu friends. A lovely tribute to her, followed by a dinner in her honour at Patricia's .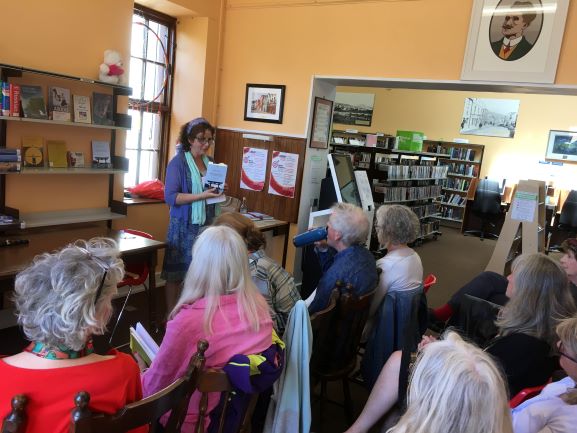 Origami Doll : Listowel Writers Week
Listowel Writers Week
hosted a very pleasant event in the library on 30th May 2019. Shirley's literary editor Jane Clarke introduced Shirley's collection and her husband Philip Beck read several of Shirley's poems to a great attendance not only of festival-goers but also of Shirley's friends living in the area.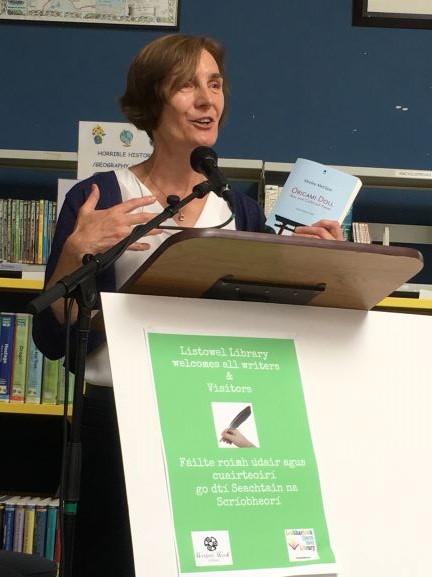 Origami Doll : Kilkenny College
Jane Clarke MC'ed a very enjoyable event in Kilkenny College on Tue 21st May 2019. Shirley's father, Sam McClure, was headmaster there until his retirement, and many friends of the McClure family came along, joined by a group of the current student body who gave polished readings of several of Shirley's poems.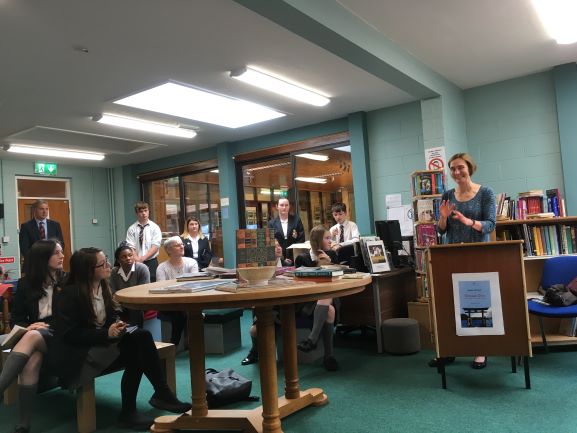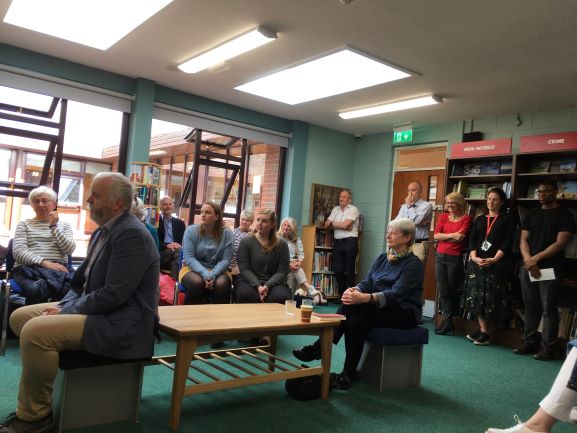 Origami Doll : Strokestown
Geraldine Mitchell, introduced by Jane Robinson, gave an insightful reading of Shirley's poetry at the Strokestown International Poetry Festival on Mon 6th May 2019.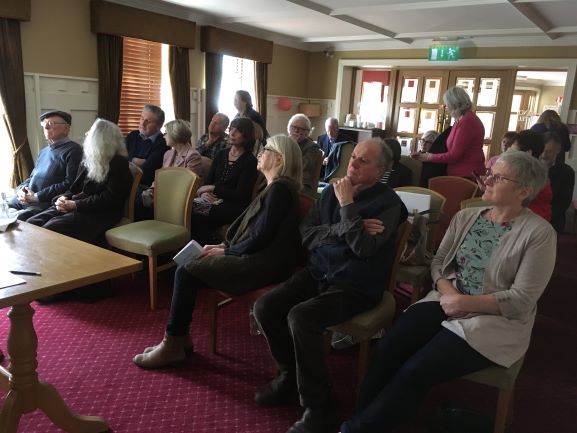 Origami Doll : Publisher's Launch
Arlen House launched Origami Doll in
Hodges Figgis bookshop, Dawson Street, Dublin on Weds 1st May 2019.
This was a wonderful event, as her poems were read by a collection of her fellow poets who knew her well and admired her work greatly - Jane Clarke, Geraldine Mitchell, Jessica Traynor, Eithne Hand and her niece Alex McClure. It immediately shot to the top of the bestsellers list in Hodges Figgis!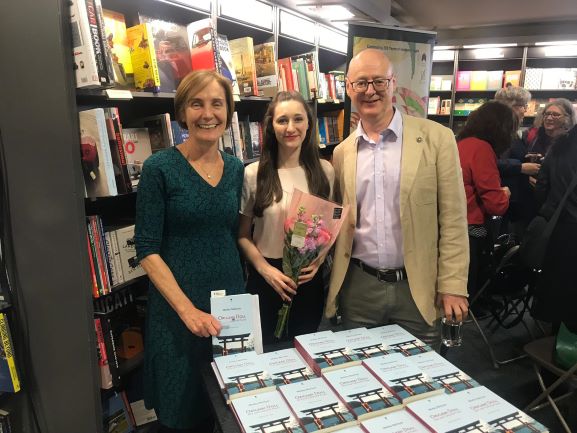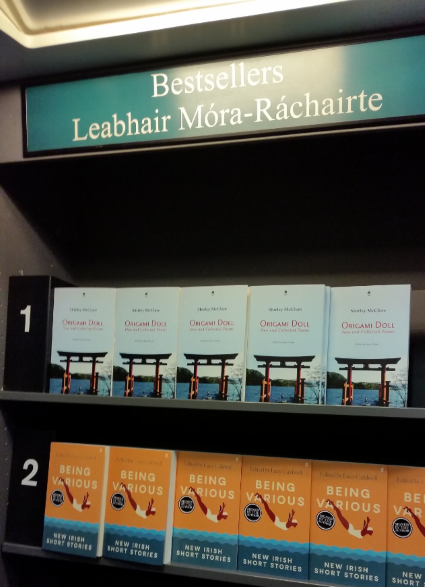 Origami Doll on Poetry Ireland website
Poetry Ireland have selected the title poem
Origami Doll
as one of their Truth or Dare poems for Poetry Day Ireland (Thurs 2 May 2019), with a wonderful analysis piece by
Elaine Feeney.
With great sadness, we must inform you that Shirley has succumbed to the cancer which plagued her for so many years. 05/01/1962 - 23/09/2016. Here is one of her last poems :
May God
                      I am searching
                                          for a kind of god:
                            like ours
                                            but feminine,                                    
                                           a rock,
                                                            root,
                                            river  
                                                        pan-deity  
                                   a hey girl! Pachamama
                             who'd be as easy
                                     standing guard for me
                                                         within a vessel
                      on the dresser of our kitchen,
                                  as in a field of sunflowers              
                   cradling like a hammock
                                 wrought of moss & silken twine
                           my battered body -
                                 she is on her way to me, I trust
                                                 she's on her way.
                                Shirley McClure (c) 2016
John Foggin's cobweb carried a very positive reflection on Shirley's poetry under the title "Polished gem: Shirley McClure" here.


Shirley's poem, 'Feedback', has appeared in the Spring 2016 edition of Trumpet, published by Poetry Ireland.

Shirley's poem, 'Stone Dress', has won First Prize in this year's PENfro Poetry Competition, Wales. Full results, including the judges' comments on the top three prizewinners, are now on the website here.

Launch of Stone Dress : Shirley McClure's second collection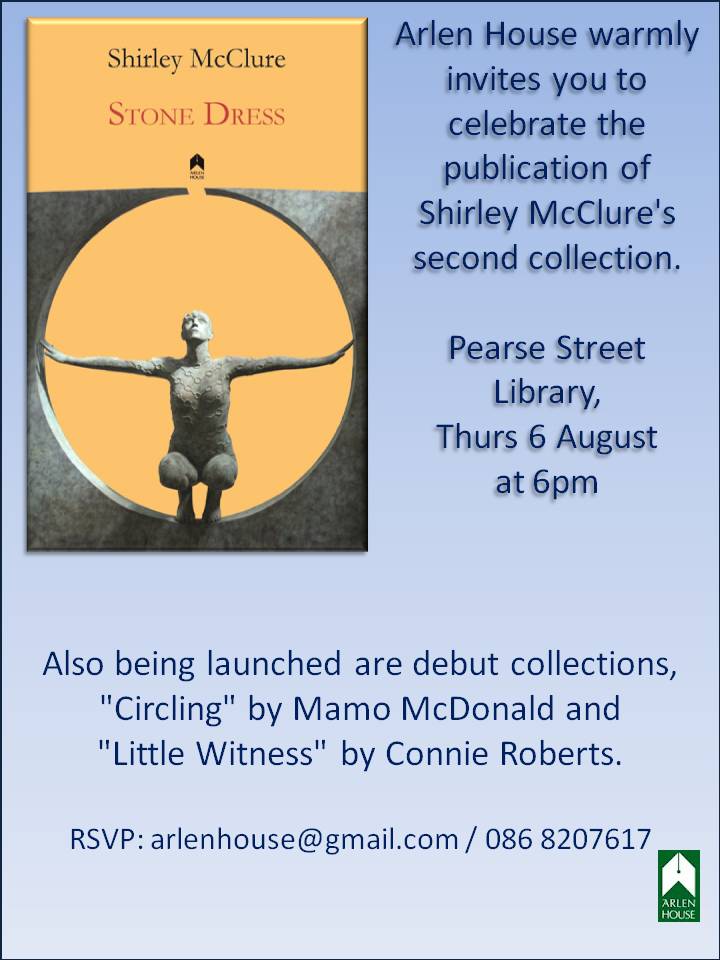 Reading tour 2015 to launch the CD
Spanish Affair

  - all proceeds to Arklow Cancer Support Group - & Jane Clarke's new book

The River

Courthouse Arts Centre, Tinahely, Co. Wicklow

Shirley McClure, Jane Clarke, and classical guitarist, Eamon Sweeeny,  will give a performance of poetry and music on Thursday 24th September at 8.30pm.

University of Alicante, Spain

A reading by Jane Clarke & Shirley McClure on Thursday 1st October at 6 pm at La Seu,

University of Alicante, 57-59 C/Purissima, Benissa, Alicante. Afterwards there will be wine and

nibbles in the Meeting room.

Dingle Library, Kerry

Jane & Shirley read at Dingle Library, Green street, Dingle on Thursday 29th October at 7.30 pm.

There will be music in between the readings.

Books Upstairs, Dublin

A reading by Paula Cunningham, Rosie Shepperd, Jane Clarke & Shirley McClure at Books

Upstairs,  17 D'Olier Street, Dublin 2.

Workshop:

Becoming more present: Mindfulness & Creative Writing, a workshop with Josephine Lynch,

mindfulness teacher, and Shirley McClure, facilitator of creative writing. Saturday, 31st October

from 10-1 at The Mindfulness Centre, 33 Lr Pembroke St. Cost: €30


Bray Arts, Bray

A performance of poetry and music from Spanish Affair with Eamon Sweeney, Katie Donovan,

Jane Clarke, Lizzy Morrissey and Shirley McClure, Monday 5th October at the Martello Hotel,

Strand Road, Bray. 8 pm.

Imagine Festival, Waterford

A reading by Shirley McClure and Jane Clarke at Waterford Book Centre, as part of the Imagine Festival. 3 pm.

The CD

Spanish Affair

can be bought online from the Arklow Cancer Support Group website.



Launch of Spanish Affair : CD by Shirley McClure and friends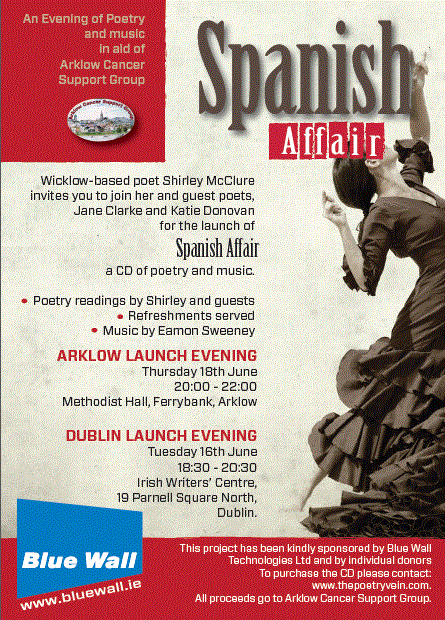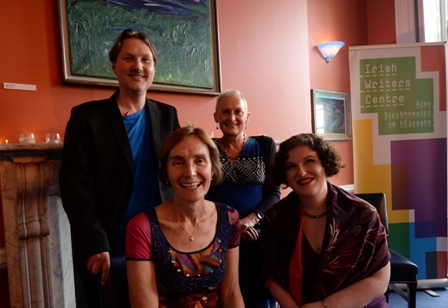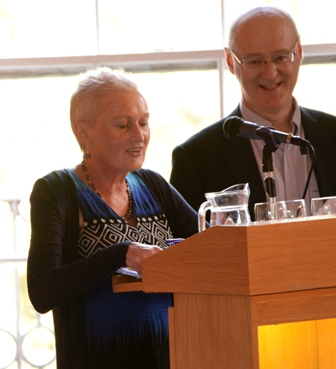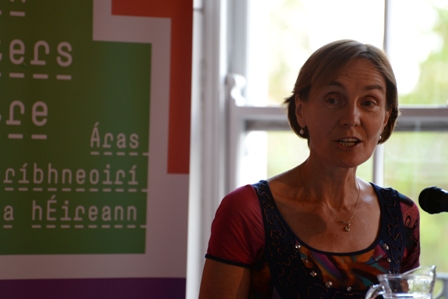 The CD, Spanish Affair, was launched at 2 packed-out events in the Irish Writers' Centre, Dublin, and the Presbyterian Hall, Arklow. Many thanks to all who contributed, who came along, and who bought the CD - all proceeds went to Arklow Cancer Support Group
If you could not attend, the CD can still be bought online from the Arklow Cancer Support Group website.
Launch of
Bray Now and Then
The Little Bray Family Resource & Development Centre Project, Bray Now and Then: Building Community Expression through Creative Writing , a poster exhibition of stories, poems and memories by writers from The Little Bray Writers Group (Coordinated by Shirley McClure) was launched by novelist and former TD Liz McManus on Thursday 4th September 2014, at Signal Arts Centre, 1 Albert Avenue, Bray, Co. Wicklow. After running in the Signal Arts Centre in September, it moved to the library, Eglinton Road, Bray for October, and is now at the Bray DART station, platform 1.

Shirley was the Winner of Listowel Writers' Week Single Poem originals competition, 2014.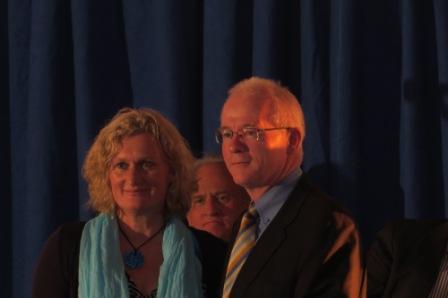 November 2013 saw the launches of two anthologies of writings by groups which Shirley facilitates:
| | |
| --- | --- |
| | Arklow Cancer Support Group produced 'Welcome- writings by ACSG', which was launched by Anne Doyle, RTE at the Arklow Bay Hotel. The group has been writing together for two years now, and it was a delight to hear Anne Doyle's encouraging comments on their stories and poems. Congratulations to all the writers and artists involved, and especially to Director of Services, Mary O'Brien. The book is available at €10 in local Arklow shops: Burkes Lower Main St.- Adrian Dunne Pharmacy, Holly's Pharmacy, John Flood's Man Shop. McMullens and Bracken's Wexford road. and direct from the centre at 25 King's Hill Arklow, Co.Wicklow. Tel: 0402 23590. All proceeds go to Arklow Cancer Support Group. |
| | |
| --- | --- |
| Group photos by Barbara Flynn. |  Later that month, Liz McManus launched 'These Things Happen,' a collection of writings by members of Bray Active Retirement Association's creative writing group. A copy of the book was presented to the President, Michael D. Higgins, on the same day. This group continues to meet weekly on Tuesday afternoons and new members are welcome at the beginning of any term. Spring term starts on 11th February 2014. Contact me to join or to purchase a book (€5). They are almost all sold! Well done all the writers, and cover artist Colm McCormack for the beautiful image of Martello Terrace, Bray. |
Shirley teaches creative writing to a number of groups in the Wicklow/ Dublin region, and is available to work with community and health-related groups as well as the general public.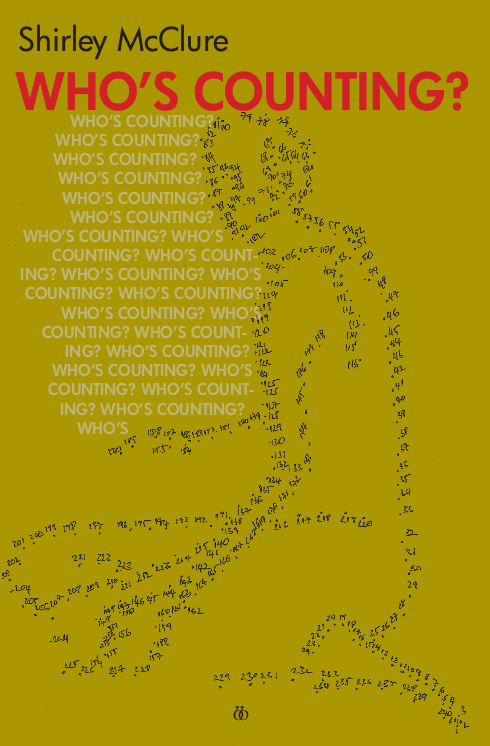 Who's Counting? may be purchased online from Bradshaw Books - use the horizontal scroll to find it in the list.